Summary:Using alloy wheel hub motors in electric vehicles offers several advantages, including: 1.Simplified Design: Alloy wheel hub motors eliminate the need...

1.Simplified Design: Alloy wheel hub motors eliminate the need for a separate drivetrain system, such as a transmission, driveshaft, or differential. This simplifies the overall vehicle design and reduces the number of moving parts, leading to improved reliability and reduced maintenance requirements.
2.Increased Efficiency: By placing the motor directly in the wheel hub, power transmission losses are minimized. This allows for more efficient transfer of power from the motor to the wheels, resulting in improved energy efficiency and increased range for electric vehicles.
3.Enhanced Performance: Alloy wheel hub motors provide instant torque, allowing for rapid acceleration and responsive performance. The ability to deliver torque directly to each wheel enables precise control of traction and stability, enhancing vehicle handling and maneuverability.
4.Regenerative Braking: With wheel hub motors, regenerative braking can be effectively implemented. When the vehicle decelerates or brakes, the motors can act as generators, converting kinetic energy back into electrical energy. This energy is then stored in the vehicle's battery, increasing overall efficiency and range.
5.Packaging and Space Utilization: Integrating the motor within the wheel hub saves valuable space within the vehicle, enabling better interior and cargo space utilization. This can be particularly beneficial in compact electric vehicles.
6.All-Wheel Drive Capability: With individual motors at each wheel, electric vehicles equipped with alloy wheel hub motors have the potential for all-wheel drive capability. By controlling the torque distribution to each wheel independently, optimal traction and stability can be achieved in various driving conditions.
7.Weight Distribution: Placing the motors at the wheels helps achieve a more balanced weight distribution, improving overall vehicle stability and handling.
8.Design Flexibility: Alloy wheel hub motors offer design flexibility for vehicle manufacturers. The compact and integrated design allows for greater freedom in vehicle styling and aerodynamic optimization.
It's important to note that specific performance and efficiency characteristics may vary depending on the particular motor model and vehicle configuration. Overall, alloy wheel hub motors contribute to improved performance, efficiency, and handling, offering a promising solution for electric vehicles.
16 inch aluminum alloy wheel motor QH-Y (16) hub motor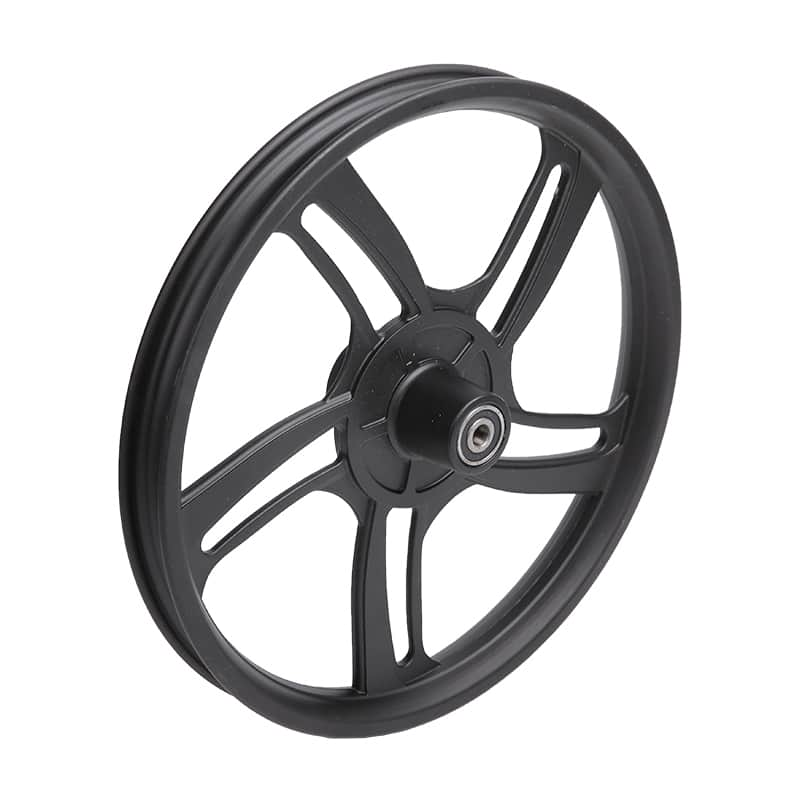 | | | | |
| --- | --- | --- | --- |
| Product Type: | QH-Y(16) | Open Size Front (mm): | 100 |
| Wheel Size (IN): | 16 | Open Size Rear (mm): | 120-135 |
| Rated Voltage (V): | 24/36/48 | Drive: | Rear |
| No-load current (A) | 0.7 | Cable Location: | Shaft center right |
| Rated current (A) | 8 | Spoke Specification: | no |
| Rated torque (N): | 6.0 | Hall Sensor: | Optional |
| Rated Power (W): | 240 | Speed Display: | Optional |
| Rated Speed (km/h): | 20-35 | Surface: | light/Black painted |
| Rated Efficiency (%): | ≧80 | Brake Type for Front: | V/saucer Brake |
| Reduction Ratio: | 1:4.2 | Brake Type for Rear: | saucer Brake/Band Brake |
| Weight(Front wheel) (Kg): | 1.26 | Noise (db): | < 50 |
| Weight(Rear motor) (kg): |   | Waterproof Grade: | IP54 |